The Daily Grind
A Cyc-o-path Loose in South America
A Motivational Book About Cycle Touring Through South America

A Book by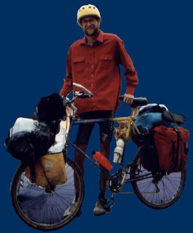 Bob Lutsky

---
"If you always do what you've always done, you will always get what you have always got."
- Magnet on my sisters fridge
Chapter Twenty One

North From Lima
Although I'm not too fond of the pollution and the crowds, I sure don't miss going between 5000 and 15,000 feet over dirt/ powder covered rhombus shaped rocks day after day. Yesterday was happily spent fighting traffic, zipping in and out of all the back streets of Lima. Today, for a change I went out of Lima towards the south, about 10 miles to the affluent part of town called Miraflores. What an amazing contrast, suddenly the pollution is gone and the buildings are modern, I could be in Southern California or Europe. Its a shame there has to be such a gap between the have and the have nots, but that's a function of society and the market place. Interesting how wealth brings Americanisms, Pizza hut and Kentucky fried chicken, modern stores with all the latest trinkets. But what caught my eye was a women selling homemade chocolate Black forest cake at 50 cents a slice, expensive for here but worth it! So I bought a piece and sat down on the edge of a cliff over looking the ocean. Its been over two and a half months since I've seen the ocean, but only 1000 miles south of here near the Peru/ Chile boarder. I could of made it here in 3 weeks if I took the coastal route, paved, reasonably flat, and a tail wind, but ultra boring without the flies, heat, garbage, and the up and down road of rhombus rocks.



The beach here consists of round golf-ball size stones, with small waves less than 2 feet, breaking a 100 feet out and rolling onto the rocks. At the point there are couple dozen surfers all wearing wetsuits for even though we are at 12 degrees of latitude ;the equivalent to 750 miles south of Miami, the water is still very cold,60s. Interestingly enough only about 350 miles north of here the cold Humbolt Antarctic current turns westward and north of that the water becomes remarkably warm, upper 70s. The water here is brown and looks somewhat unattractive, but is packed with sunbathers in the summer months ( our winter ). There is a good paved road that hugs the coast and the base of this 150 foot sand cliff, but the city of Lima is about 7 miles inland and road into the city from the coast is quite unpleasant because of its popularity, so Ill return via the bike route.

There is something about being alone and in remote places and up in the mountains that cultivates a need to see, people and madhouse confusion again. Hence one of the reasons for my decent into Lima. Also to see the ocean again and to familiarize my self with the source and life blood of Peru's capital and largest city. In addition on the world news front, Lima is frequently mentioned in the headlines, and I wanted to have some sort of personal reference. But an attempted robbery and a lung full of vaporized lead is enough reference for me so its off to the north again. The next day after stocking up on food and water, I spent the next 8 hours cycling through heavy traffic to clear the outskirts of the city. By this time my need for confusion and crowds has more been more than satisfied, although I never thought I would say this, I'm ready for more ups and downs.

I stayed in a hotel on the northern edge of this seemingly endless urban sprawl, scored the delectable dozen in terms of hours of sleep, and was up and on the road with the dawn.

The second day out of Lima was not as congested but still too much traffic for my liking, a truck or bus every minute or two. This is a continuation the Atacama desert of Chile, only here the road does not hug the coast even though it appears to on the map. There are places where you can see the sea, but most of the time you're about 1 mile inland and the sand is gray, everything is gray, and bleak. Nothing but gray sand, gray skies and gray blah. 2000 miles of ocean front property with little access and little interest.

From the coast to about a hundred miles inland it almost never rains while 300 miles inland from the coast it almost never stops raining. as the Amazon encroaches upon the eastern Andean foothills. The Pan Americana highway is paved and climbs and descends through the sand, 2000 miles from Chile to Ecuador and for the most part, from my perspective as a tourist, can be missed. I feel sad for cyclists who cling to the largely unattractive Pan Am, who value speed over visual beauty and diversity of experience.

Oh here is my turnoff, the town of Pativilca about 130 miles north of Lima, time to head up into the mountains again. I've decided to abandon my efforts to cook my own meals and camp. Dollar hotels and restaurants are too frequent so easy and allow me to meet more locals and practice my Spanish more, which by now, is getting quite good. As the road turns eastwards and rises into the Andes once again, I'm blessed with a strong tail wind alleviating the resistance of the climb. The good paved road follows the Fortaleza river valley gradually leaving the desert behind as the scenery slowly turns into Nevada like scrub land. I'm not quite sure what it is but my overall feeling of exuberance is significantly higher up in the mountains. The air is cleaner and clearer, the water is better, ( not good, just better ), less people, less traffic, and as the Cordillera Blanca ( white mountain range ) comes into view, there comes a feeling of being closer to god.

Two days and another 130 miles or so I cycle into the tourist town of Huaras. An interesting note, shortly after crossing the pass, the east wind suddenly changed and blew form the northwest 10-15mph, the predominant wind direction of the Andes. After surveying the town on foot while walking my bike, I met a fellow cycle tourist form Belgium who was staying with a local family and invited me to join him. We walked down through the back alleys over tons of broken concrete and debris and then into a store, through the isles of this mini- Wal-mart into a back room, and then my favorite part, up 3 flights of stairs. We shared a room with two beds and a view of the Santa valley with its yes ho hum , more snow capped peaks. That night after a good feed a locally caught trout, I helped him true his wheel and entertained him with the unpacking of all of my 120 pounds of stuff. Like the guy carrying the kayak, he asked, why are you hauling so much weight? Without thinking I just said traction, I get better traction with more weight. Actually, most of it I don't need, but want to keep, books I've finished, maps, notebooks, souvenirs etc.. but it's cheaper to buy new stuff than send it home. Postage is outrageous, and unreliable, so for a little extra exercise I get better traction.

The next day the two of us took a three day excursion over the white mountains to the ruins of Chavin. We went over by bus and walked back on an old Inca built trail. The Chavin culture thrived around 300 BC, and construction on this site actually began around 800 BC. This complex is underground and at one time contained over 3000 people. I read somewhere that the Incas actually spawned from this ancient culture. Inside there is a 12 foot sculpture of a lion or what looks like a lion carved into white granite. The hike back was long but visually attractive. It can be done in 2 long days or 3 easy ones, we chose the latter. I'm not quite sure why, but the native people who only speak Quechua not Spanish, are terrified of us gringos. When- ever they see me coming they run and hide, of course I also have this problem with women in bars, old friends, and just about anyone who I don't owe money to. The only reason I borrow money is to keep people interested in me.

The night time temperatures up in the mountains were well below freezing, but having a second person in the tent sure made a difference. Camping above 15,000 feet is a great experience, but I still find myself easily out of breath, mild headache, and frequently tired. I didn't mention the dizzy and light headedness because I'm always that way. My friend Vermeylen (what a name) feels the same way so tomorrow we will try to make it back to Huarez.

It was late when we got back but the market was still open, so we made a short stop, and returned to treat our hosts to a huge fruit salad, and made fried chicken and potatoes for dinner. In the morning Vermeylen was to meet up with his girlfriend who lived in Lima, so I took this as my cue to start down the Santa Rio valley. The town of Huarez is 10,500 feet and the town of Trujillo is at sea level, but between the two I didn't do any coasting. Bad road, gentle descent, a bad tummy, and head winds made for easy but slow going.

I met some people earlier who told me about a detour off this road that goes into Huascaran National Park and around Peru's highest peak, Mt. Huascaran at 22,210 feet. They said that the route climbs almost 9000 feet and winds around 80 hair pin turns and switchbacks over one of the worlds most spectacular Mountain range the Cordillera Blanca. I later learned that of all the roads in the world this is one that should not be missed, naturally I missed it. A mild case of Hepatitis A had set in and my spirits and energy level would simply not allow such a detour. So close yet so far, but a good reason to return.

I compromised by spending the night in the town of Yungay, with a perfect view of the majestic Huascaran, and the fresh snow blowing off the top. Yungay is the jumping off point into some of the worlds greatest hiking. From here the paved road continues down to Huallanca, a small village but a good spot to fill the stomach and restock a few supplies. This is also the starting point of the famous Canyon Del Pato. Although still very wide at this point, will soon narrow to as little a 50 feet wide and up to 1000 feet deep, with sheer vertical walls of stone and granite carved by the Santa river. This road an abandoned train route descending through 55 tunnels varying in length between a 100 feet and a quarter mile, stretching over 35 miles. The one lane road was literally carved into the side of a cliff and in places I stood by the edge of the road and looked down five or six hundred feet. At one point I stopped and threw a large rock about 15 pounds over the side, and counted to 8 before it hit. When it did, it made a puff of dust and a pop sound, just like when Willie E. Coyote falls off a cliff while being chased by the road runner. I think they might even film it here, or at least get their ideas from this place.

After the canyon opened up into the desert the way got a little confusing with several possibilities and became largely uninteresting. It took another 3 days to reach Trujillo and the home of Lucho a local racing cyclists who for the past several years has been housing cycle tourists for free. I got his address from other south bound cyclist in exchange for the address of two other munificent local fellow cyclists who put up us alien travelers for free, in Potosi Bolivia and Los Andes Chile.

The first day in Trujullo I spent walking the streets and trying to meet up with an Italian women who I met in the canyon and loaned my lost cities book to. I found her hotel with a note, " had to return to Quito a day early you can reach me through my E mail", which didn't seem to exist, oh well one less kilo to lug around. I also made an excursion to the beach, and watched a local make a canoe out of reeds. Along the way I could see where some tremendous flooding occurred only a few months ago. The whole road was washed away along with half the village. This area is normally a desert, but along with El Nino came some unprecedented downpours. This trend of washed out roads will continue all the through Ecuador.

When I got back to Luchos place I noticed two other touring bikes, yahoo fellow aliens. John-Paul and Alycea from Wales, a couple who got married 8 years ago and have been cycling around the world ever since. They started in Ushuaia in September, almost a year ago and are on their way to Alaska. Never have I met such committed and determined cyclists. They take it slow and keep to the back roads as much as possible. They even cycled in Patagonia in the winter, as if the winds weren't enough to challenge the hardiest traveler, they had to have bitter cold, short days and a smooth layer of ice on the roads just for fun. Alycea was a great cook who could whip up a gourmet treat out of thin air, and John-Paul was the world biggest soccer fan, who continuously monitored his short-wave radio so if by chance, there was a soccer match somewhere in the world, that happen to be broadcast, he wouldn't miss it.

We loaded up with food and goodies and set out northward on the Pan Am Highway. A few days earlier in Trujillo I met someone whose parents lived in a town 90 miles to the north called Chiclayo and she told me that her parents would put us up for a night. When we got there, I knocked on the door and told them who I was and that I had brought along two friends. They were happy to see us and take us all in. The family was relatively well off and we had arrived just in time to join them in their son's 18th birthday celebrations. We had to make a 5 mile detour to get to their home, but when you're traveling, you'll do anything for a piece of cake. Alycea had the most Spanish so she had a long conversation with them while John-Paul and I sat back and absorbed it all.

I was surprised that even though they were well off and had a modern Porcelain toilet, they still had no running water in the washroom and you had to bring up buckets of water from downstairs to flush the toilet. It could have been that they were in the middle of building the washroom or there was something wrong with the plumbing, but you never know with the Peruvian lifestyles.

From Chiclayo, we decided to detour off the Pan Americanna to the older road which isn't used much anymore. It branches off eastward through the desert region and rejoins the main highway Piura. Along this rural desert section of this route we came upon a crowd of hundreds of people walking along the road. When we asked someone, they explained to us that they were on a two-day pilgrimage called a "Spiritual Uplifting March for Jesus". The first image that came to mind when I heard "Spiritual UPLIFTING" was that of a crowd of people, all giving each other "Wedgies" for Jesus. Amazingly enough, John-Paul had exactly the same thought at the same time and as we rode past them, we kept waving and wishing them a Happy Wedgie Day.

Our first stop was the museum at Lamberque. This ancient burial site was discovered, as always by grave robbers who got caught trying to sell some of the trinkets and fossils they recovered. It was great to actually see statues, artifacts and intricately carved jewelry made out of gold and silver that the Spanish did not find and melt down into coins.

Another site we stopped at, the ruins of Tucume, are rarely visited by tourists because its not on the Pan Am Highway ( the main tourist route ). We took the long cut instead across the desert of Sechua to avoid the heavy traffic. This vast site contained 30 some pyramids, a museum, and several detailed drawings of how the once looked. We asked permission to camp in the court yard next to the museum for we won't have time to see all the pyramids before dark. No problem as long as we pay our dollar entrance fee before we go in, tomorrow. After dinner John- set up the tent and tuned in for soccer scores from England while Alycea and I made dinner. Still not feeling well, lacking the energy to set up the tent or deal with the pesky mosquitoes and having a case of the runs, I decided to spread out my rarely used huge tarp and sleep on the floor of the surprisingly modern and clean restroom at the museum. This later proved to be a great idea for several times in the night my fellow aliens were disturbed by curious kids and late night grave dwellers (people who hang out at the ancient grave site and drink too much ).

I use the term alien because my friend in Santiago kept referring to me as an alien, largely because of my attitude and beliefs, but mostly because to the local people us cycle tourists are aliens and treat us like one. When ever we enter a village they all stop and stare, sometimes run away in fright, and if I stop to change a flat, within 2 minutes no less than 70 people gather around, so for the most part I feel like an alien. What would you think if you lived in Peru and saw a 6 foot, white skinned, bearded, yellow headed, yellow breasted, longhaired maniac ride into town on a 25 inch mountain bike with a Minnie mouse strapped to the front?

Here I feel like an alien physically and in the states I feel like an alien because of my lifestyle and belief system. I have been told that I live in a completely different world than most people. I'm antithetical to my fellow Americans. Pretty well anything that the average person would enjoy, I tend to avoid with a passion, whereas things that tend to scare most people off, draws me like a moth to the flame. When you're an alien floating through a strange land, it's such a relief to connect not only with people that share the alien experience but were also kindred spirits, After 3 months completely on my own, I was overjoyed to be able to really relate to someone again, to have deep discussions about life, politics and philosophies. It was as if I had been reunited with people from my own planet and the greatest thrill was that John-Paul kept me updated on the soccer scores!

We finished seeing the museum and sites around noon and cycled about 65 miles in 85 degree sunny weather to the town of Olmos. Here we stocked up on fruits and vegetables. Next came the challenge to find a place to set up camp for the night. Outside the city, we found a small gravel side road that split off from the main road and was sheltered from the main road by a band of bushes and trees. Since the road seemed to be fairly deserted, we felt confident that there would be no traffic through the night and decided to set up camp in the area. John-Paul and Alycea set up their tent on the gravel road, but I saw a patch of land that I felt would be more comfortable. I cleared the grass and dead shrubs from a 10 foot square area of smooth, hard dirt. As I spread out my tent and was about to hammer in the stakes, I looked down and saw a battalion of huge red ants that reminded me of a Rushin' Army.

Upon further examination, I realized that the entire area was covered in ants! After all the work I had put into clearing the space, I wasn't about to give in that easily. With fierce determination, I gathered back all the dead scrub I had cleared, piled it up in the center of the space and set it on fire. Earlier, John-Paul had jokingly mentioned that we hadn't had a bonfire yet and with all this dead scrub, it would be a shame to waste the opportunity. Of course, when the low temperature doesn't dip below 70 degrees, the idea of a fire is far from cozy. Needless to say, I got a roaring fire blazing and the heat was intense. Victory was mine for no ant was able to tolerate the scorching heat! When I cleared away the ashes, not a single ant remained. Of course I paid for my success because the searing heat from the ground radiated up through my thermarest and the tent became a home-made sauna - What a plus! I had a lot of dreams of roasting by the fiery gates of hell, but luckily I awoke to the land of the living. I looked around and surveyed a few ants trickling back into their territory in the first light of morning as if they were coming back to assess the damage for possible insurance claims.

As we cycled north of here we came along a whole mountain side in the midst of this desert that had been washed away, taking most of the road with it. There had been large sections a few hundred yards long that had been filled in with rocks and sand, and other places where there was only one lane left, the other lane only a cliff. All this erosion due to a sudden rain storm in an area that rarely gets rain. There were long stretches of small shrubs and trees that had been washed away forming what is now a dry riverbed. El Nino is making some significant changes in geography as well as weather. This child reminds me of me.

Our last night together we camped on top of a small ridge under a thorn tree, which is good because I like thorns and so does my thin cheap south American bicycle tires. Alycea cooked up and great spicy curry, and we stayed up half the night talking about how we would be living our life differently if we had unlimited wealth. We all agreed, that we would not change a thing except that we might stay in nicer hotels when available and fly home more often to visit relatives, and maybe hire someone to follow us with a truck full of fresh purified water! I always dreamed that it would be ideal to always buy roundtrip tickets TO the United States not from them. That is to always be traveling and just fly home occasionally for a visit. In all honesty the most memorable, most rewarding situations occurred because I was traveling on a budget. Truth is I like my life just the way it is, I don't think I would ever let money change any of that. I do hope that I have the opportunity to put that theory to a test one day.

The three of us packed up and started our last day together. We cycled into the ugly metropolis of Piura and went straight to the most modern super market I've seen in south America. Just like home, they have all the western products, but also at western prices. Pringles 3 dollars a can. A whole dinner in a restaurant is only a dollar, how do people afford it? Truth is they can't but they buy it once in a while as a sign of affluence, makes them feel privileged and impresses their friends. I stuck to the usual tin of fish, bread, rice, oatmeal, fruit and vegetables with some nuts as a snack item. We then went to a park for lunch where we witnessed a father playing with his son. Something we had not seen in Peru before. Here, the women raise the children, do all the shopping, cooking and cleaning, the men do, for the most part what ever they want, and no women would ever dare to speak up. Its a piety but perhaps this is an area where globalization can create some positive changes.

After lunch we cycled out of town together when I noticed my front tire precariously low on air. Apparently one of those thorns from the night before made its way into one of my tires, and just now made its way out again. As luck would have it just to my left was a gas station with an air hose. We pull over and in less than 5 minutes, the tube is patched, the tire inflated and were off. I love air hoses, but not as much as I love hand pumping 90 pounds of pressure into my tire in the middle of a desert. About 25 miles down the road we came to Sullana our point of separation. They were turning right and heading into the mountains of Ecuador via the Macara La Tina boarder crossing and I was going to the coast. We were all very sad to part, but my hepatitis A was saying no to big climbs in the Andes. Besides I did want to get to the western most point in South America for I've already made the furthest north and south after this only one more to go. This turned out to be a wise choice for my lethargy greatly increased over the next few days. But god willing, I'm determined to make it all the way back to Quito by bicycle, solely for my own personal accomplishment.

The three of us cycled together looking for the road out of town. There were no signs any place and no one seemed to know the way. First we went a few miles north than a few miles east but couldn't find the route with any sense of certainty. I told John-Paul this is ridiculous, with twenty seven years of cycle touring experience between the three of us, we can't find our way out of town. Finally after a half hour and our third try we came to a bridge, we crossed the bridge together, and on the other side we saw our first sign. It said Talara to the left, some place we couldn't even pronounce straight ahead. Well Talara is where I want to go, so with big hugs and a long tearful good bye, I cycled away. John- Paul and Alycea on the other hand must return across the bridge and continue the blind search for their road out of town. You can check out any time you like but you can never leave. The first rule of third world travel, is nothing is done easily. The simplest things can sometimes require an extraordinary effort of persistence.

The Chira river valley just outside of Sullana is lush jungle like scenery with palm trees and banana leaves everywhere, but soon the Pan Am Highway turns west and climbs up, back into desert like terrain, yahoo! The next 50 miles to Talara rolls through dry scrub grass with endless fields of very active oil wells. They were so frequent that I had no choice but to camp near one, but the quiet drone acted as sort of a mantra which made it easy to fall asleep, of course my debilitating fatigue helped too.

Also along this road are endless washouts from erosion. One place the road just stops at a 15 foot drop off. A new dirt path was carved into the scrub for about a mile, than down into the wash out and along the new dry riverbed. After about 3 miles, the raging torrent of water that created this detour, turned left and suddenly the road reappeared again. A 3 mile long by one mile wide stretch of earth 15 feet deep was just washed away. This, in a completely flat area of desert. The effort to repair this is too great for such a poor country, I suspect that they will just build a ramp down into the washout and pave the now dry riverbed.

Out in the middle of nowhere a stone gets stuck in-between my break pad and the tire. The sharp stone manages to slice a gash 2 inches long in my tire. Not a lot of traffic around at this point, I sit and think a while. Then I discover my sewing kit and I think it's worth a try. I have 2 needles, so taking the stronger of the two, I analyze the eye for size. Then sacrificing an old tube, I tear a long strip as thin as possible using my Swiss army knife. Unbelievably, it fits through the eye on the 37th try, so I tie it off with a knot and start to sew. When I've covered the two inches plus a little extra, I tie off the other end, You thinks its hard to make a knot with thread, try it with rubber. Rubber slides so easily on rubber. Then taking a fresh tube, placing it in the tire, and carefully putting the tire on the rim with the stitching half under the rim, so when inflated, the pressure will act as the strength to hold it all together. I proceeded to pump only 40 pounds of pressure, any more and it starts to bulge, and shazam! Its works. In Talara I bought a new tire and a new tube, but feeling so proud of myself, kept this one on to see how long it would last. Well, 300 miles later in Quito, it was still holding strong. As a matter of fact its in the garage right now, just as it was after the street-side sewing job.

Well I made it down to the beach just south of Talara to Parinas Negritos, the western most point on the south American continent. This is a very unimpressive place, not even a visitors center or even a sign. Ahh a potential business opportunity! nah. When I got home and checked it out on a globe I noticed that the western most point of south America is about the same longitude as Miami Florida. Just think with that information and 2 bucks you can buy a latte. Actually for me its quite exciting, for most people intuitively think south America is south of the states when in fact nearly the whole continent is east of the united states.