The Daily Grind
A Cyc-o-path Loose in South America
A Motivational Book About Cycle Touring Through South America

A Book by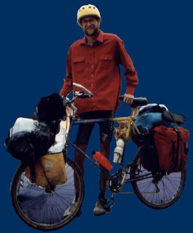 Bob Lutsky

---
"Apprehend the world as a child would."
Chapter Twelve

Santiago and The Art Of Motorcycling
Click here for map

(and be sure to click your browser's 'back' button to return to this page!)
We arrived in Santiago about 7 am after a most pleasant night sleep on the bus. The bikes came off and together no problems, because a women handled all the public relations. We met two German cyclists in the bus station who also took a bus into the big city but were flying home that day. Why is it that only Germans go cycling? I met one Australian, one Ecuadorian, one Chilean and many Argentines all who were cycle touring, and everyone else I encountered on a bicycle spoke German. Us Americans are lazy home bodies with by far an away the lowest per capita of the western world with a pass- port. I believe we also have the highest rate of mental instability in the world. A negative by product of wealth I guess. Flowing water does not decay! People stagnate, become bored and dissatisfied. So they fill the emptiness with artificial stimulants and consumer goods. We have replaced cooperation with conquest. One last thought. 17 billion dollars will feed all the starving people on the planet for one year. We ( the world ) spend that every 10 days on the military. A FACT THAT CALLS INTO QUESTION OUR SPECIES CLAIM TO INTELLIGENCE?

This southern part of Santiago is the poorest part of town, some people living in shacks, or very run down houses. About 90 minutes later I was sitting in a very luxurious modern American express office inquiring about mail. They provide a marvelous service of holding mail for travelers for up to a year free of charge! But this wasn't the office, so they gave me directions to the other office in the wealthy section of the city. On the way there we somehow got separated again, I was furious. But I kept cycling up and back for about an hour when I finally saw her, talking to a man in a suit on the sidewalk on the opposite side of the street. Giant steps are taken during moments of insecurity. This man was the brother of a lawyer who cycled all of Chile a few years ago and wanted to meet us. This was Friday, and they planed to take their motorcycles to Valapriso for the weekend, but made arrangements for us to meet them Monday morning at his office at 11:30.

The rest of that day we cycled the whole length of the city and it took all day to do. The northern part is very affluent, felt like New York, with traffic, buses, noise all the good stuff. We had an hour to kill before we had to be at the metro stop of Tobalobra to meet our friend Christobol, who we met on the carreterra austral about a month ago.

So we found a park, bought some ice-cream and made a list of all the places we stayed at overnight. I was surprised at how many I had forgotten. There was one women we met from New York city, who has been living here 10 years. She invited us to sleep in the workers shed. Inside there was many large pieces of Styrofoam probably for insulation, but made great beds. Before going to sleep she offered us a coffee. It was clear she was from NY. Not just her accent, but behaviorism's, aggressive confident voice, and loud, with many references to things back home. She did tell us a lot about the local people, sadly here the women are still dominated by the men. They stay home and do women's work while the men never help out with the raising of the kids or home chores and can do whatever they want. A women wouldn't dare speak up or complain about her situation, which is often bleak. I have always been amazed at how much energy people put into trying to control other peoples lives. People with a strong self image and who are centered, never become angry or hostile when confronted.

Another place we stayed that I forgot to mention was in the big city of Temuco 100,000 people. The little women's hospedaje. She was no more than 4 foot 8 inches tall but so sweet. After an unnecessary argument of where to stay, this time my fault, we found this little women. The hospedaje was so quaint, nice but very small bedrooms, great hot shower ( an unusual treat ) and a huge wood stove for cooking. For some reason Ewa and I had a huge appetite that night, and ate enough for six normal people while this women just watched and kept shaking her head. We did the same in the morning before we finally left around 1 in the afternoon, with 2 breakfasts each of omelets and pancakes, followed 2 hours later by lunch fit for an army. No entiendo como dos personas comir tan mucho, I think that's what she said. She probably thinks no wonder people in the world are hungry, the westerners eat it all.

The hour has passed and we are now sitting by the fountain waiting for Christobol who arrives with a small car but its too complicated to give us directions to his place, so we follow his car in heavy traffic taking up a whole lane. Twice we lost him, and once almost got run over, but finally made it. He lived with his parents in a small house at the base of the mountains just out side the city. With limited space inside we set up the tent in the back yard.

They actually had servants, I've never been in a house with servants before. It was like being in a nice hotel something else I've never done. All of our meals were prepared for us. Matter of fact we were not allowed to use the kitchen. Anything we needed just ask and they will bring it. They didn't have any feelings for the servants. They treated her like she was a robot, often yelling at her for no reason, perhaps as a vent for their own frustrations. Christobol was the only one who treated her as a human. They work her hard and long hours for very little money. But its a poor country so its good work for more than she might make else where, so she happily stays. I don't think anyone is that more valuable than anyone else.



After our gourmet breakfast served to us on a shiny silver platter, Christobol took us out to tour the city of Santiago by bicycle. We went everywhere. We left Ewa to go through the market in the center, while Christobol and I went to look for the hotel where the couple from Holland (who I met in Torres Del Paine) left the water purification drops for me. It wasn't easy but we found it and sure enough was my gift as promised. We met up with Ewa again and all decided to go to the cinema together but on the way I got my third puncture, rats! I guess these tires are getting thin and I will need to replace them soon. Naturally I was without a patch kit, did I learn my lesson nooooo. Christobol called his dad and he came down and picked up the bike and we all took the bus home after the film. A good film, I think, Croatian language with Spanish subtitles, swell!!

The body metabolizes everything we do, taste, hear, feel, smell and think. Choose a variety of everything in life and keep those thoughts reaffirming the good stuff. In your inner most truth you can do no wrong. relax more, limber up and don't take things too seriously, watch more sunsets, take more chances, travel lighter, walk barefoot more often, and live one moment right after another. But above all accept nothing that does not sound or feel right to you. A little advice I give myself and would like to heed more often.

Monday morning we called Gregorio to confirm our luncheon date then set off into the city. We went into the parking garage and locked our bikes inside to the railing, (little did we know it would be 10 days before they would be retrieved). Then we went up to the fifteenth floor dressed in our raggy wear the same thing everyday clothes to meet our mysterious friend. Gregorio's office had a remarkable view of the city, I quickly ran to every side to the see the whole city from above. What a place to work! He and his brother took us to one of the nicest restaurants in the city. The 4 of us rode the very modern underground across town( equally as comfortable and efficient any in North America). First there was the appetizer with cocktails, followed by multiple entrees, multiple bottles of wine and concluded with dessert and coffee that was brewed at the table in a beaker and something you might find in a chemistry lab. The bill was over 100 dollars, wow! A whole months travel expenses. On the way back they wouldn't even let us pay for the subway.

When we got back to the CTC ( Chilean Telephone Company ) building, Gregorio brought us down into the garage to show us his motorcycle. A Honda shadow 600. This thing was enormous. He asked me if I knew how to ride? I never had actually rode a motorcycle before, but had an idea how they worked so I said yes of course. So he started it up and let me drive it around the parking garage. I stalled it a few times at first but this did not shake the confidence of this most generous man one bit. He said ride it around till you get the hang of it. After about 20 minutes I felt confident, and parked it its original place. He brought us up to his office, gave each of us a helmet, the keys, his drivers license, his insurance card, and his jacket and said go visit Valapariso!!! Its three hours away on the highway. He said stay over night if you want, just enjoy yourself!!! I love this country.

I couldn't believe what just happened. But just like that we were out of the parking garage, although still not completely comfortable with the sensitivity of the clutch and brakes, with Ewa's arms wrapped around my waist, off we went. I felt like one of the gang, thinking to myself boy this is cool!!. Even though the leaves are turning, the days are sunny and warm 75 degrees. The traffic through this city of 5 million people is clogged, congested, heavy and the air was even worse. But after 2 hours of racing from one light to the next, we were out in the country going 60 mph. Wow easyrider!!! We stopped several times for a rest, its more tiring than it looks. I must admit I felt pretty cool putting on my helmet and leather gloves and climbing on such a nice bike with a great babe on the back. This is a day I will never forget.

As we got near the coast the smell of eucalyptus filled the air. The road went down, down and down some more, into the most artistic city in Chile, Valapriso! We got stuck in the right lane and inadvertently went to Vina Del Mar, but just looped back, went up into the side streets of the city which is built on the side of a mountain with many valleys and gorges running up between the neighborhoods. One stop was by a fruit stand where we ate grapes and fed a bunch to a pigeon, I gave a play by play thought by thought of what the pigeon might be thinking. I never saw a pigeon eat so many whole grapes at one time, just swallow them whole.

We also stopped for about an hour to see the Pablo Neruda museum, a beautiful house of art and poetry overlooking this 2nd largest city in Chile as well as the mighty southern pacific ocean. After a quick shop in the market for more fruit and veggies, and a chat with a jealous German traveller, we rode through the city making a couple of illegal turns one of which got the attention of the Carbineros. He waved us over and asked for my international drivers license which I didn't have. He knew we understood what he wanted even though we pretended not too, but after a few kind words by Ewa and her gorgeous smile he let us go.

The road north from Valapariso goes north along the coast for about 60 miles before merging again with the pan Americana. The next town north was Vina Del Mar, The rich persons playground of high-rises and beach condos, we gave it a miss. Further north we found a cheap hotel still on the beach, and got permission to park the motorcycle in a nearby garage. We called Gregorio and told him where we were and he said just enjoy yourself. Wow what a guy! We spent the next day cruising around the small towns built right into the hill side along this stretch of coast. Some very expensive, some very poor. When another pacific sunset completed its task, we headed inland to the community of Los Andes to meet Eric, a fellow cyclist who is a veterinarian and also puts up people traveling by bicycle. An extremely nice and generous man, he treated us to pizza and a bottle of Chilean cabernet. He also gave us a room in his hotel in the nearby town of, San Felix.

This hotel was set way back from the road and designed to be used very clandestinely, for entertaining that someone special when you don't want that other someone special to find out. I never stayed in a hotel that had a mirror on the ceiling and a bed on a raised platform before. The shower also had its special features. Well I think Ewa was intimidated by all this stuff, for she got angry at me when I suggested we make the best of the situation and make sure everything is working properly. Oh well so it goes. I suspect she might be feeling like a lady of the evening, which she is most certainly not and never will be.

The next morning we tried to climb up over the Andes but naturally the pass was still closed. We went up as high as we could get before the rain turned to snow. Further ahead we could see the road turn white, which translate to very cold and slippery. Oh well after a soggy ride down the beautiful canyon, we decided to stop for tea and a warm up. Fortunately this little cafe had an active wood stove. Back in Los Andes Eric fed us a delicious lunch and we helped him unload medical supplies and pet food into his clinic. He advised us to stay for another night, but feeling guilty about having the motorcycle so long we decided to return to Santiago.

There is a small pass en route between the cities, at the top of which there is a tunnel. Inside the tunnel was extremely slippery, like ice, because it had been raining, and inside the tunnel there was lots of oil on the road, for this region is now at the end of the long dry season. Naturally we had a crash at luckily only 20 mph. Both our bodies were sliding down this heavily crowded dark tunnel. The motor-cycle stayed with us as we slid about 30 feet stopping just short of a very slow moving tractor trailer in front of us. Fortunately we stayed in our lane and were not run over by oncoming traffic. That would of been a bad thing. The car behind us stopped and the driver came over to see if we OK. A little shaken up, a little oily, but OK, we got up, restarted the bike and continued on our way, only this time very very slowly. The ride into Santiago's rush hour traffic, in the rain, bumper to bumper for 3 hours was nightmarish to say the least. Soon it became dark, we became disoriented and lost for about 3 hours, I felt like we covered every street in the city. When we finally made it back to our friends house where we had the tent set up in the backyard, the one hour journey from Los Andes was completed in a record 7 and a half hours. Setting records can be stressful.

The next day Gregorio invited us for lunch to hear all about our experience and when he heard how much we liked Valapriso and the coast, for we both have great appreciation for the sea, he said why don't you go up to La Sarena and spend some time at the beach? We said no, we've kept your bike long enough besides La Sarena is 300 miles north of here. So his response was then go to San Antonio, the coast just north of there has great beaches and its only an hour away!! The generosity of this man stagers my imagination, reconfirming that reality exceeds imagination.

San Antonio was a big fishing community I think 2nd only to Puerto Montt. We had a great lunch in a restaurant with waves in front of the window, this place was literally on the beach only one flight up. They even had a big screen TV with the film Karate Kid playing, swell. After lunch I engaged in a game of chess on the boardwalk with some locals, International competition, it was about even, but his skill and concentration slightly exceeded mine. With our parking meter about expired, yes they had parking meters, we rode about 5 miles north. Here we found a great hospedaje with our room and balcony over looking the ocean, about 100 feet up the hill. For this we paid 5 dollars each per night, which we actually had the nerve to think was expensive. To celebrate Ewa's last couple of days before returning to school, we had candlelight dinners of salmon, asparagus, potatoes and a fine bottle of cabernet, on the balcony over looking the ocean each night and took long walks down the beach.

The last day we each took a two hour walk down the long lonely beach, separately, to reflect quietly on the past two months together cycling and these past 10 days on the motorcycle. Ewa is a very special women who I love very much, but my lifestyle is not kind to relationships. I will be in South America for another six months and then Ill return to the states to work for another 3 months. I can't begin to express how lucky I've been to have had someone so wonderful to share the last 2 months with, I'm sure fate will allow us to spend more time together in the future. Having experienced both, I feel the advantages of traveling with someone equal in number and value to the advantages traveling alone. But I prefer the former.

The cold water and air temperature made it slightly unattractive for a swim but I took one anyway. I never regret jumping in for a swim even though conditions often make that difficult , but I often regret not jumping in for a swim. That afternoon there was a massive beach party, loads of buses from the university of Santiago arrived, it looked like spring break. They even had a live band, but surprisingly it was only for the day, that evening they were all to return to the city. I find the Chilean people to be the friendliest in South America but at the same time the most difficult to understand. The young kids are the most difficult to comprehend, lots of slang and muy rapido in their speech. After a few brief chats to find out what was happening, we retreated back to the hotel for a siesta.

The last evening we spent together eating ice cream and walking in and around the town. There must of been no less than 15 dogs following us looking for a home. They were all skinny and dirty, some of them sick. people here don't value and take care of pets the way we do. We did meet some people with a dog, who they kept on a leash. Their dogs were well fed well groomed and I'm sure received lots of petting and loving attention which probably made matters worse for all the homeless dogs. They probably must of felt even more rejected and unwanted than if there were no dogs with owners. I think if I lived here I would take all of them in maybe start a dog city. Of course the locals would think I was nuts and have me deported.

On the way back to Santiago we stopped at a chain restaurant to eat something Of which I am not particularly fond of but it was all there was. You have the choice of paying the dollar toll to go through the tunnel or take the many switchbacks over the mountain. We chose the latter without hesitation. The road climbed about 1000 feet above the town below, sure felt great to see all the lights, the road down below disappearing into the hillside, The tail-lights of the cars all going out at the same spot as if they disappeared into thin air. Also the air getting cooler the higher we climb, what a night. Arriving in Santiago for the third time, I realize why I don't live in a big city, its too tiring and time consuming to get in and out of. That night at Christobol's house, his parents said we should sleep on the floor inside because the night temperature will be well below freezing, we didn't argue.

In the morning , I took Ewa to the CTC building to get her bike, she rode it back to the house and I followed on the motorcycle. Without ever asking for any help, she disassembled her bike and put it in a box, the one Christobol brought from a nearby shop. She by taxi and I by motorcycle went out to the airport. On the way out the sky opened up from it perpetual brown fog of smog, and the beautiful freshly snow covered Andes Mountain Range put itself on grand display. Its not too often in life that you see something as stunning as this. If the sky was clear all the time this city would have one of the most beautiful settings in the world. Coming into the Airport I saw Air Force One, for President Clinton was here Probably to congratulate me on my trip and to see Ewa off. I hope there isn't too many security problems or cameras, I hate all that attention. But it was nice of Bill to come.

What a surprise, after Ewa checked in we turned around and there was Christobol, he came here to see her off as well, what a friend! We said our painful good-byes in a big group hug, and as she disappeared beyond the customs gate I thought to myself, I'm sure going to miss her. Christobol and I got on the motorcycle and rode over the grass and curb onto the other road leading out of the airport, so as not to have to pay for parking. All the police standing about just waved us on by, I love this country. All through the city there was police, hundreds of them everywhere, I guess President Clinton increased security for my trip back into town, how thoughtful.

I spent the rest of the day with reflecting back on our time together. Like the Weekend Ewa Christobol and I went with a car and the motorcycle up to the mountains. This was just south of the city, and on the way up the canyon we passed checkpoint, and police waved me on the motorcycle over, I just waved back and rode on by. Christobol thought that was so funny, because the police didn't know what to do, he said no one would ever do that here. I think I was just lucky. Up the canyon we camped in an abandoned house, with a few other people doing the same.

Our neighbor was a nice old guy about 55 years old who lived in this old shack with another family. He told us he has been driving a truck up and down this canyon hauling dirt and minerals, 6 days a week, 12 hours a day for 18 years. I told him that was a lot of dirt. We all had a bit of wine and he started singing, then asked me if I knew any songs. So I sang Country Boy by John Denver. He stomped his foot and hummed right along with me. I later found out he was a big fan. I have no idea what made him ask, right out of the blue, but he asked if I could sing a song in Spanish. It just so happened that I have been practicing a song by Mercedes Sosa, and finding it extra- ordinarily difficult to learn. But I had the first half down pretty well. As I sang it albeit rather poorly they all just stared and listened in awe. It was obvious that I couldn't speak Spanish, but knew this song. The old man stood up as if about to salute me, and with the greatest respect shook my hand, and said its very difficult to learn a song in a language you don't speak. I felt a very close kinship with this man even though we could only say a few sentences to each other.

Later that evening someone built a small fire and after it was going strongly threw a large tire on the fire. The smelly toxic smoke, drifted into the neighboring houses but the wind blew it away from us. I told them how toxic this was but that didn't matter. Its a very common thing to do around here. First of all there are old tires everywhere, secondly they burn hot, bright and for a long time and don't require any effort to keep going. As I traveled throughout central Chile, I saw countless places where tires have been burned. On this canyon alone about 25 miles long I counted 40 different burned tires. Its easy to spot one, for the wires and cables inside the tire and the permanent burn mark in the ground. Christobol said it takes along time to give up something you've always done, Its only recently that some people are starting to realize the harmful effects of this thoughtless act.

In the morning we took the car and drove up to the end of road, then hiked almost to the continental divide, just to the base of the final wall, On the other side of which is Argentina. While we were there in this open field at the base of the ridge it started to snow, At one spot Christobol left a footprint with his bare foot, Ewa left a hand print, so with the only thing I could think of left a butt print. Without comment Christobol said we better get back down to lower elevation before we get stuck up here.

Christobol told me after about an hour on his back porch reminiscing this weekend together, that although he found the butt print highly amusing, it would not be well appreciated among most people. Pity, life can be dull with out such deviations from propriety.

I told my good friend that I already overstayed my stay, which can be seen by the dead grass where the tent was. I sincerely thanked him and his parents so very much for all their kindness and hospitality. I have since heard from Christobol as he apologized for not being able to meet me in Peru but he had some visa trouble, but vowed to visit me in the States as soon as he finished university.

Gregorio was unable to be reached for he had gone out of town for the weekend the message he left was he will return on Monday. So I went to meet Jamie, the guy I hiked with in Torres Del Paine. He was very happy to hear that I made it this far. Friday night he took me and his girlfriend out to dinner, then we spent the weekend looking at photos of his trip of which he gave me a copy of.

He could not believe all the stuff I had, and looking at it spread out all over his apartment, some of it stuff Ewa left behind, I could not believe it either. 143 pounds of stuff! By the time I got to Ecuador I managed to get it down to 60 pounds. Its best to travel light, although I do enjoy the luxuries, tea kettle and books etc. Jamie had a nice place in Los Condes the most affluent place in Santiago. Monday Jamie had to fly to Spain for business but said stay as long as you like, But I told him I needed to move on and thanked him for the offer. Monday morning when I woke he was already gone. The amount of trust total strangers have put in me is phenomenal. Would you, after meeting a long haired scruffy foreigner who didn't speak your language, loan him your prize possession $10,000 motorcycle or let him live in your apartment while you left the country? I doubt it. But these kind of things happened to me quite regularly throughout the 5 months I spent in this remarkable country.

That day I had a few hours to kill before meeting Gregorio, so I took a trip up to the ski resort, 52 switch backs, very steep road climbing 6600 feet. Cold and snowy at the ski village my stay was brief. I met another guy on a motorcycle, we both just stared at the valley below, you could see where the smog and pollution stops about half way up the canyons. I asked him Porque nosotros vive abajo? Why do we live down there, his reply was very humorous, we? You perhaps, I live up here, then he rode off. It took longer than expected to return to the city so I was 2 hours late meeting Gregorio, but he said we will have plenty of time to talk because you will stay with us for a few days to rest and recuperate before continuing your journey north. I returned the motorcycle to the parking garage, finally retrieved my bicycle loaded it up in his van and drove to Jamie's apartment to get all 143 pounds of who knows what before going to his house.

Gregorio's place was a mansion, with 12 foot ceilings, original art and naturally servants of course. This place is a palace, but progress always wins. The house is theirs but the land is leased( something I don't completely understand), but they were offered quite a some of money, and the house will be torn down and a shopping mall will be built there. This is very sad, they had several acres of lawn, and behind their lot was two polo fields. I spent my afternoons just walking these fields, watching polo matches in the evenings. I spent a lot of time thinking on these strolls. Its funny... Normal is only what YOUR familiar with. I always laugh to myself of course, when someone would say to me about my behavior "that's not normal". People want you to be like them, and if your not there must be something wrong with you. Dignity is your ability to let other people be themselves. If I want to spend my life traveling around the world, learning about other cultures, denying myself of possessions, new clothes, a car etc... why is that weird? One of my favorite authors Depak Chopra said that "normal is the pathological behavior of the average".

None of that really matters.. What matters is what you believe. How do you talk to yourself? Do you say things will work out well for me or do you say this sucks or its so boring around here? We attract what we think about and we become what we think about. Do you have self-limiting beliefs? OUR MIND EDITS OUT ANYTHING THAT IS CONTRARY TO WHAT WE HAVE ALREADY DECIDED TO BE TRUE.

When I left for my trip to South America it was like leaving home to go to the corner store for milk. I never once had any thoughts that I wouldn't make it, or I might get robbed, or sick, or lost. I will go, see and achieve all I set out for and return home. The only difference being instead of being gone an hour I was gone 9 months. And after all that, when I finally got home I forgot the milk. The glittering prizes in life come to those who persevere in times of setbacks and calamities. Winners stand with Humility , honor and fortitude in times of disappointment.

What do I want in life? I want to live in a country where medical freedom and traditional healing are still honored. If a doctor talks to me about a prescription or surgery , He is not concerned about my well being. He who sins before god shall be cast under the care of a physician. Doesn't it say that in the bible someplace? I want to live in a healthy environment, swim in pure rivers that I can safely drink from and eat home grown veggies, and I want to live close to the natural rhythms of life. Unfortunately this is becoming increasingly difficult to do and still be part of society. What makes you angry in life? Whatever makes you angry must be expressed and forgotten. If not it will fester and grow and re-emerge as a calamity later in life. Not just one anger but a collection of them might just be the root cause of cancer.

Well that's the last of the scatter brained thoughts of various wise sages as they came to me while walking the polo fields behind Gregorio's house just north of the city in Santiago Chile.

Its April 25, 1998, time to make tracks toward the desert regions of northern Chile. I told Gregorio that no one has ever offered me so much in terms of trust, kindness and generosity and that he has made for me some of the most fondest memories of my life. After a long embrace, I told him he has restored my faith in the human spirit, and I too will offer more trust and generosity to fellow human beings. The only true gift a person has to offer is the gift of the self.